Meet The Team: Margarita de León
We both love to eat the peels of fruits. When she was pregnant with her first daughter she smelled a rose and thought it smelled like the best thing in the world at that moment and began eating rose petals right there (this is weird even in Guatemala) She has two beautiful, bright girls – Michelle (10yrs) and Angie (6yrs) – who she told me it's important to teach not to live in fear. Michelle is...
Guatemalan Tree of Life
From an inspiring talk with one of my closest friends, also a "chapin" (chapin is the slang word for Guatemalan) at heart - Greg Lowden. The "Guatemalan Tree of Life" is a framework for looking at international development and Christian ministry. It gives vision to what is organically happening on the ground through Guatemalan grassroots projects. This is what, to us, means "living our faith" or...
Don't Impose Needs
In a lot of community work, especially when you are using the word "poor" and "poverty alleviation," especially when you are crossing international lines, bridging different cultures and traditions and languages, you want to justify why you are doing the work, give your work value by painting a "before" and "after" scene, you want to talk about the huge life-changing impact you are making. But no...
4 tags
Cooking shouldn't kill →
"Smoke from cooking fires was found to be the largest environmental threat to health in the world today"
4 tags
Click a Button. Change the World.
Unmarked Streets has been accepted into a contest held by Cultivate Wines, an amazing socially aware winery in California. From today to Oct 31st you can vote once a day for Unmarked Streets to win $50,000!! 2nd, 3rd, 4th, 5th, and 6th place will also receive $10,000 each, which is, in a nutshell, a really big deal. Guatemala that trains impoverished women to become entrepreneurs while selling a...
What we Believe
 At Unmarked Streets, we believe that every man and woman has the ability to walk the road out of poverty.   We believe that every person can succeed if given the opportunity to prosper.   We believe in the dignity of humankind, to support themselves, and their families.    We don't give a hand-out, we give people the tools to walk on their own two feet.   At Unmarked Streets, we are creating a...
2 tags
4 tags
"1.5 millones de familias cocinan con fuego abierto en el país. (de Guatemala)"
– http://www.prensalibre.com/economia/Estufas-mejoradas-bien-vistas_0_748125192.html
1 tag
http://nyudri.org/2012/07/23/not-knowing-as-the-pla... →
"Though still in its early stages, FII's outcomes look promising. According to reporting by the families themselves with a follow-up audit by FII, in two years the families earned on average 23 percent more, saved 240 percent more, and increased their home ownership by 17 percent. This apparent success comes from a hands-off approach from FII's staff. FII did not organize the groups, lead...
2 tags
Caricatures & Good Intentions →
From Tales from the Hood : on caricatures, and aid projects with good intentions, but without the knowledge/emphasis on delivering the most effective strategies to alleviate poverty  "And in a similar way I would argue that by telling stories like the one about the Hugheses (again, they're but one of hundreds) we too often let ourselves off the hook from having to think through the...
1 tag
Partnering for a new Guatemala City →
I wrote a guest blog on Central American Politics, talking about the development of Guatemala City!
6 tags
Why I love Accounting, and why it led me to...
Confession: I am seriously obsessed with accounting. Accounting, at the end of the day, is the main reason that I started Unmarked Streets. My sophomore year of college I took my first Intro to Accounting Course. We spent the first few weeks sifting through the holy trilogy of financial statements – the balance sheet, the income statement and the cash flow statement. We learned each one of the...
Microinsurance and AIDS in South Africa →
Reblog from Felix Salmon:  "[AllLife] sends a clear message to the person being insured: we, the for-profit insurance company, don't expect you to die any time soon. Because if you die any time in the next couple of decades, we risk losing money. Being HIV-positive can be lonely, and it's great to have your insurer checking in with you and following up, as AllLife does."
4 tags
4 tags
What Invisible Children and the Mormons have in...
Like most people, the Kony2012 blew up my Twitter and Facebook feeds yesterday. I watched the video, and I agree with their mission to bring Joseph Kony to the Hague, and I think that they have been unbelievably successful in their goal: make sure everyone knows Joseph Kony's name. I 100% support what they are doing. Then I read the criticism: the financial mismanagement, the fact that less than a...
3 tags
The Unmarked Streets business model →
We added a new page to the website today - one that explains exactly what we are doing and why we think it will change the world. We are in the new generation of microfinance - we have entered the phase in which microfinance can evolve beyond just debt, where the word microfinance encompasses credit, savings, franchising, consignment, and venture capital to name a few.  The field of microfinance...
Guatemala's leader says America's inability to cut... →
reblog from birkenstocksandrain: "Are we going to be responsible to put up a war against the cartels if we don't produce the drugs or consume the drugs? We're just a corridor of illegality," said Eduardo Stein, a former Guatemalan vice president who headed Mr. Molina's transition team.   "The issue of drug trafficking and consumption is not on the North American political agenda. The issue of...
Why non-profits are at a disadvantage, and how our...
We just successfully completed our first round of fundraising for Unmarked Streets, and want to send a HUGE THANKS to our donors, allies, friends and supporters. We also want to take this opportunity to share our philosophy behind fundraising and our venture into the field of social entrepreneurship (#socent as some of you may say). First, a recent article featured in Stanford's Social...
Watch
Reblogged: favorite quote: "successful development work is making yourself unnecessary" powertheplanet: Micro consignment according to Community Enterprise Solutions. This is a very interesting CNN interview with Greg van Kirk, founder of Community Enterprise Solutions. He describes their micro consignment model, where they encourage local entrepreneurs in developing countries to...
Waste Not: In Ghana, Fecal Sludge Could Be Black... →
Reblog from good.is : "Building sewage treatment plants, she says, is "based on a Western approach to sanitation." One assumes the government will bill households, that households will pay those bills, and that collected fees will cover the cost of operating the plant. In reality, governments have been slow and inefficient in setting up billing systems. Even when they do, paying for...
Art, War, Guatemala, and Overcoming Tragedy
Art is one of the most important tools that humans have for dealing with profound tragedy. Artistic expression is all the more necessary when said tragic experience is one that is collective: when the loss or horror is experienced by an entire community, race, or country.  To recognize and identify with the feelings expressed in art allows a person to heal by parsing through memories and emotions...
Some powerful statistics about poverty in... →
Reblog: putnams-landing: Leonor Calderón, the country representative of UNFPA, said that only 2 percent of Guatemala's population owns most of the land of the nation. 7.4 million People are poor in Guatemala; 2.2 million live in extreme poverty.
4 tags
Reblog: 4 earthquakes rock Guatemala; 1 dead →
civilbeatbreaking: GUATEMALA CITY – Four earthquakes struck the southeastern part of Guatemala in less than two hours Monday afternoon, causing at least one death as some walls collapsed, authorities said. At least three people were reported missing. President Alvaro Colom urged calm after the temblors were…
4 tags
Globally, deforestation accounts for almost 20... →
- From an academic paper on the economic impact of deforestation
2 tags
"REBLOG: A women feeding a family of eight (not unusual in Guatemala) makes..."
– Lonely Planet Guatemala edition (via sodakmissionary)
4 tags
How Haiti has, once again, been an example of how...
Rolling Stone published a piece entitled "How the World Failed Haiti" , showcasing just how little has been accomplished in Haiti in the year and a half since the earthquake. Despite a lot of passionate rhetoric, good intentions, ungodly amounts of money, and an unprecedented amount of power and authority, today it is hard to find very much progress from the day that the entire world rallied...
1 tag
4 tags
The most well thought out commentary I have read... →
Written by a young teacher in London who has worked with the youth that are currently rioting. She talks about the 13-20% of youth in the UK who are uneducated, unemployed (and unemployable) and have nowhere to go in their lives besides jail, or to the streets.  She talks about the hair line crack between the 20th and 21st percentile of young, poor kids. About the tiny difference between a child...
Progress Not Perfection: tribes + breaking bread →
Reblogged from the lovely Grace, so important to harness the power of tribes and community, especially in the socent scene.  hungrygrace: It began innocently enough. Unbeknownst to either Erin or myself, our cataclysmic friendship, sparked at a Chicago Acumen Fund event, helped thread a memorable gathering of social entrepreneurs + changemakers. With the generous support of Brandon and Emily...
3 tags
Does Real Change Require Politics? →
http://www.nytimes.com/2011/07/16/us/16iht-currents16.html?_r=4 "Likewise, in poorer countries like India, social entrepreneurs address real needs — bringing solar lamps to villages, teaching women to weave shawls and connecting them to big-city markets. But the elites attracted to such projects are often less interested in combating the underlying structural problems. The villages need...
3 tags
A race for land is destroying the Guatemalan...
Reblog from World news and comment from the Guardian | guardian.co.uk Expansion of sugar exports, demand for palm oil, cattle farming and subsistence communities pushed off their traditional land produced the world's fastest rate of deforestation There are cows as far as the eye can see beside the road leading to the archaeological site of La Joyanca, in north-west Guatemala. Over the last...
How the reduction of poverty helps the environment →
"Greener light bulbs remain critical, but if poverty continues on in rampant style, it is unlikely that any of the newfound efficiency will make a difference."
1 tag
Women Employment Study
Just another few reasons why we're out here doing what we do, highlighted some items in bold:   World's Women Less Likely to Have Good Jobs Largest gender differences in the Middle East and South Asia by Jenny Marlar WASHINGTON, D.C. — Worldwide, men are nearly twice as likely as women to have "good jobs" that arelinked to better wellbeing. According to Gallup...
"I hear the same question echoing through the conversations, the meetings, the..."
– http://ansarafamilyfund.org/karens-blog/why-haiti-still-needs-donors Guatemala, like Haiti, has a government that is corrupt and not only fails to serve it's people, but takes advantage of them. Working for change, it's easy to get discouraged, or make excuses and say that it's...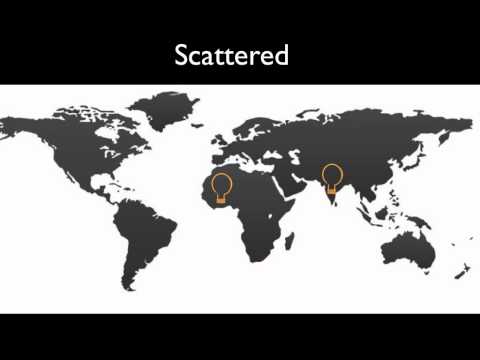 "Reblog: Social programs will be much more effective if philanthropists and..."
– Eduardo Porter on the role of pricing in social innovation. His new book, The Price of Everything: Solving the Mystery of Why We Pay What We Do, is a must-read. (via curiositycounts)
2 tags
From microfinance, what next?
Microfinance, giving small loans to entrepreneurs in the developing world, has been a fantastic step forward in the fight against poverty. Capitalizing on the innovation that already exists in impoverished communities is a brilliant anti-poverty strategy, that was long overdue and desperately needed. Solutions from the bottom are almost always more effective than solutions delivered from an ivory...
Our Vision
Unmarked Streets was founded on the belief that all humans have the right to walk the road of life with dignity. Poverty denies billions of people the opportunity to build that life for themselves. Unmarked Streets envisions a path to economic empowerment. We aim to empower communities through the funding and development of social enterprises. Unmarked Streets is working to build a road, not...
Unmarked Streets
"You will come to a place where the streets are not marked Some windows are lighted but mostly they're darked A place you could sprain both your elbow and chin! Do you dare to stay out? Do you dare to go in? How much can you lose? How much can you win?" -Dr. Seuss Oh! The Places You'll Go!